---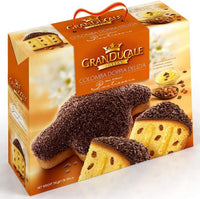 Colomba cake with pasticciera cream and raisins plus a chocolate topping from the Italian Master bakers at Gran DuCale

Every year, we eagerly anticipate the return of la colomba di Pasqua, or the "Easter dove." In Italy, this artisanal cake is a sweet sign of spring.

Delicious on its own, colomba is often served with fresh berries, drizzled in dark chocolate, slathered in sweet spreads, or paired with whipped cream.

Italians even will enjoy a slice with coffee for breakfast or an afternoon pick-me-up! And at Eataly, we love to pair the festive cake with a glass of Prosecco or dessert wine.

Colomba Gran Ducale; Imported from Italy; Traditional Italian dove-shaped cake, a symbol of peace!