---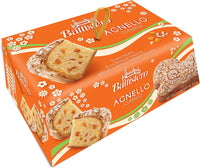 Battistero Agnello Colomba Classico Italian Easter Cake 750g

A lamb-shape cake, covered with granulated sugar and filled with candied orange peel. The Easter classic flavor.

The Colomba can be enjoyed on its own or it is often served with fresh berries, drizzled in dark chocolate, slathered in sweet spreads, or paired with whipped cream. Italians even will enjoy a slice with coffee for breakfast or an afternoon pick-me-up!

You can also enjoy this festive cake with a glass of Prosecco or dessert wine to make the occasion more glamorous!

Battistero Agnello Classico Colomba 750g - Italian Easter Cake created from mother yeast with the best ingredients and according to anicent traditional methods. The Anicent Traditional method includes a slow natural cooling "upside down" for an harmonious development and unrivaled softness.

Imported from Italy...enjoyed all around the world!